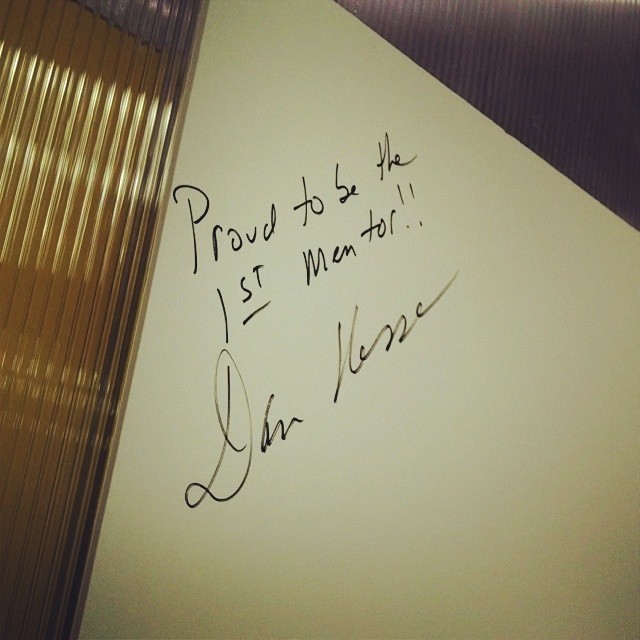 It was 7pm on Monday night.  The early spring sun was just starting to leave the sky, our camera crew's equipment was ready to go in the corner of the room, Techstars associates were wiping down tables and putting the finishing touches on a perfectly set building.  I couldn't help but think about the calm before the storm that was brewing in Kansas City's Crossroads District.  In less than 12 hours, roughly 40 entrepreneurs from all over the country would descend upon this very space.  Things would never be the same.
Moving In
This morning (Tuesday), starting at 9am, one team at a time opened the doors to the Sprint Accelerator for their very first time.  In 15 minute intervals they were welcomed to the sound of screaming fans (Sprint and Techstars employees), their favorite song and a beautifully put together welcome kit from amazing local KC businesses.  After a very brief tour, each company took a team photo and short interview on first impressions before joining the crowd to welcome the next company.
After 9 rounds of this, a rowdy group of enthusiastic entrepreneurs had formed welcoming the final team into the building.  Team mechanics, bonds and culture can be complex but it was easy to see something developing in a short amount of time.
Orientation and Elevator Pitches
Settling down a group with that kind of energy can be difficult but eventually the crowd moved into the main space where we reviewed some rules for the road, talked in general about the next 90 days and got to know each of the companies in a little more detail.  After a quick refresh on what a great elevator pitch looks like (courtesy of Nicole Glaros), the companies broke into their groups to refine their company's pitch.  They would each have 20 seconds on stage to explain what it is they do.
One by one, the CEO of the company hopped up on stage to give their pitch.  While no one was perfect on the first go around, some coaching and coaxing from the crowd quickly helped each CEO fine tune their pitch.  This practice proved to be extremely valuable as the air filled with the smell of Jack Stack BBQ (we couldn't let anyone forget that they're in Kansas City after all).
A Surprise Visitor!!
At dinner, the CEO's were once again invited up to the front of the room…this time to a table where they were joined by Sprint's CEO, Dan Hesse.  Each of the entrepreneurs put their 20 second elevator pitch to work telling Dan about their business.  The interaction and conversation between this table of leaders was exciting.  What started out with elevator speeches quickly turned to topics like leadership, corporate social responsibility and the role Sprint can play in helping the startups accelerate the growth of their business.  Dan soon had to say his goodbyes as he had family to attend to but not before being the very first mentor to sign our #GiveFirst wall.
——————————-
I looked around the room again and expected to see a bit of exhaustion.  The whirlwind day had been full of surprises, emotion, long periods of sitting and a healthy dose of critical feedback.  By all accounts, everyone there had earned the right to clock out and rest up for the next action packed day.  Instead I saw conversations happening, whiteboards being put to work, phone calls being made and emails getting responses.  The get it done attitude of a typical entrepreneur was filling the room.  Tomorrow is another day but why wait until then to accomplish what needs to happen now!?
Not every day at the Sprint Accelerator will begin with theme songs and end with the CEO hanging out over BBQ but not a bad start to a life changing 3 months.