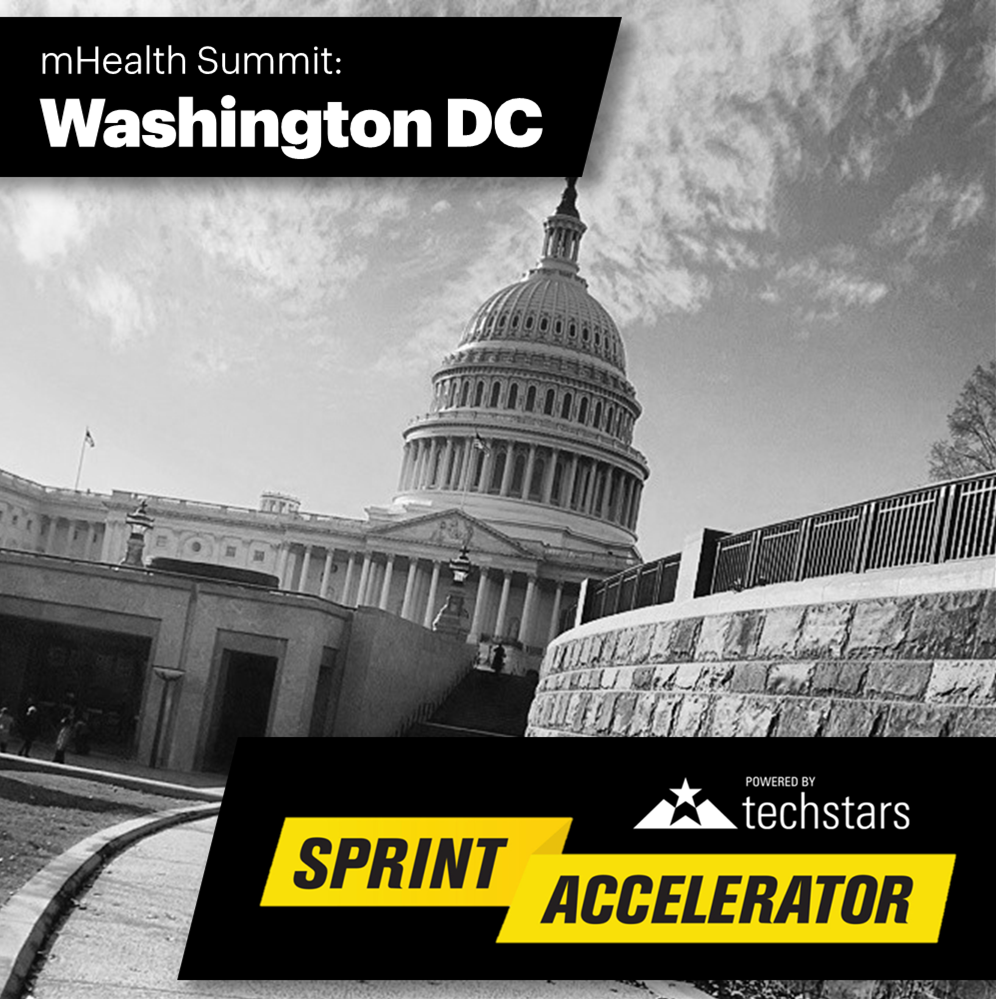 After a flight cancellation due to snow in DC and a re-scheduled departure the next morning at 5:35 AM I wasn't exactly ecstatic to attend the mHealth Summit.  As it turns out, the snow wasn't as bad as reported and my exhaustion was melted away upon setting foot inside of the expo hall at the Gaylord National Harbor.
In the last decade, I've attended plenty of tech conferences where there have been attempts to embrace entrepreneurs and disruptive innovators.  They all need to take notes from the folks at the mHealth Summit.  The innovation lounge on the show room floor hosted around 30 startups all attacking problems in health care and it really enhanced the atmosphere of the conference (BIG props to Startup Health on this one).
To date, I haven't seen such a large saturation of mobile health tech startups in one building.  It was a lot of fun to make the rounds (so to speak), talking with each of the entrepreneurs who were utilizing a mix of game mechanics, custom hardware, open API's and mobility.  In every case, each of these companies had a unique perspective on the marketplace and a deep passion for the problem they are solving.
I think the thing that impresses me most about the companies I talked with was the talent of the teams.  In most cases, the entrepreneurs we spoke to were former doctors, nurses, in-home health specialists, pharmacists, therapists, etc…  All very in-tune with their market but also extremely intelligent.
The opportunity standing in front of everyone in attendance was palpable, a virtual wild west.  There are THOUSANDS of applications, mobile medical devices, connected pieces of hardware and cloud based services all hoping to take advantage of an industry in transformation.  Over the next few years, mobility will change medicine, impacting the quality of care.
Rather than tackling this gigantic opportunity alone, startups are recognizing the power of banding together.  Academies like Startup Health, organizations like Games for Health, Incubators/Accelerators like Healthbox, Blueprint Health, Rock Health and the Sprint Accelerator offer a network of experts and resources that will surely improve the likelihood of moving the entire industry forward.  Finding a way to join forces with powerful associations like these will only improve your chances.
So why should your mobile health startup choose the Sprint Mobile Health Accelerator?  That was a question we got a lot.  My answer is simple:
1) Techstars - The power of Techstars has been proven over time.  The mentors that surround the program are a huge asset in this developing industry and pairing up with other disruptors will change your business and you as an entrepreneur.  Beyond that, the intense 3 month program that focuses all efforts on "doing more faster" will hold your company accountable for executing a years worth of work in 3 months time.
2) Sprint - Serving as a launch pad for the very first mobile TV service, the very first turn by turn mobile navigation service and even helping Pandora launch their mobile app on a flip phone in May of 2007, Sprint has a long history of working with startups.  Bringing BIG resources to bear from engineering, sales, media and more gives you unprecedented access to the assets of a large corporation, granting your startup an unfair advantage.
3) Kansas City - Our fair city is a hub for entrepreneurship, mobile technology and life sciences.  Leveraging not only the resources of a large company like Sprint but also the talents of the entire region will make KC the best place on the planet to scale your mobile health company for [at least] the 90 days of the program.  The Midwest culture permeates the entire startup community, bringing a supportive and neighborly attitude to bear for the 10 companies lucky enough to be selected for our program.  Consider the BBQ, music, art and family friendly community to be bonuses that you'll get to enjoy while not cranking away on your business inside of the amazing Startup Lab located in the creative "Crossroads Arts District."
I could go on, but you have an application to fill out.  If you're a startup looking at this enormous opportunity standing in front of you that is the mobile health industry then do me a favor; take 45 minutes and click on the "APPLY NOW" link above to your right.  Applications are free to fill out and you'll most likely learn a little bit about your business in the process.
Tweet at us if you have any questions/comments/concerns, we're looking forward to helping your company change the world.